EST FEST 2017
August 7, 2017
E.S.T. = EVERYBODY STANDS TOGETHER
Please keep the following primary guidelines in mind this weekend so we can continue to Stand Together with you.
Respect our neighbors during check-in.

Do Not park on their grass
Do Not block the road or private driveways from through traffic
Do Not use the woods, lawns or otherwise for going to the bathroom, be sure to go before getting in the car line.

Please attempt to Carry In-Carry Out all of your garbage, recyclables, tents, and gear

If it fit in your car on the way here it will fit in your car on the way home.
We are family, please do not leave our facility and campgrounds full of trash.
Frequently asked questions regarding EST Fest. This is not an extensive list of all policies. Please visit www.est-fest.com for more information.
Pool Information:
Friday: 2:00pm - 9:00pm
Saturday: 9:00am - 9:00pm
Pool area capacity: 150. Once this limit has been reached, no other patrons may be admitted until others clear the pool area. Yes this includes the Saturday morning 'Wake and Bake'
Slip N Fly Information:
The Slip N Fly WILL BE OPEN to the public during the EST Fest.
Cost will be $20/day. Wrist bands may be purchased from booth at pool area.
Entrance Information:

All patrons must follow the map exactly in-order to gain admittance to the festival.
There is no overnight parking on the roads around the camp.
If you come from the wrong direction, you will be asked to turn around and go to the end of the car line.
Patrons must enter the car line up starting
At the intersection of Route 95 and Bunkerhill North Rd.
You may access this intersection from Possum Run Rd or Route 95 from Butler.
Possum Run Rd is the direct road from exit 169 off HWY 71 and many amenities including, fast food, sit down restaurants and last minute supplies from Wal-Mart.
There is also a gas station and Dollar General in the village of Butler.
Parking Information:

Gate times:

Friday: 12:00pm - 2:00am
Saturday: 8:00am - 10:00pm

Before reaching the main parking gate, patrons will need to show tickets, sign waivers and may be subject to a search. Remember No Glass containers, Firearms or weapons of any kind are permitted into EST Fest
Parking Fee: $25 per car. Each car will be given a parking pass for in/out. If you lose your pass you will have to purchase a new one.
Camping Information:
Camping is a first come first serve basis and is very primitive.
No more than 3 tents per camp site.
Camping in marked sites only, no camping in the woods
Fires must be in fire rings, you may bring your own or purchase one from the Ohio Dreams vendor. Cost: TBA
No vehicles are allowed in the camping area. It is roughly a 600' walk from parking to camping (as seen on the map)
Showers will be available
Festival Map: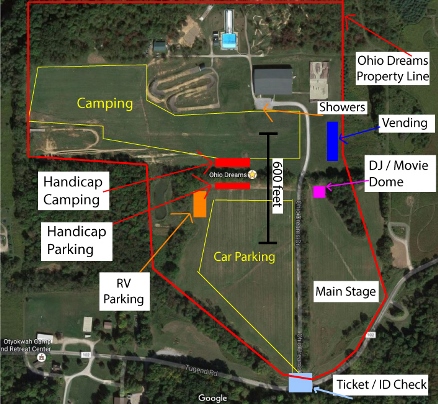 Click to enlarge map
« Back to Blog